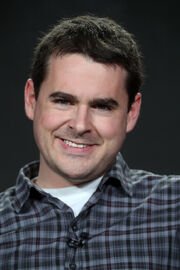 Tucker Gilmore is a voice actor and production manager, known for Wreck-It Ralph (2012), Übermansion (2013) and Frozen (2013).
He landed earliest production credit as PA on "Tangled". As production assistant on "Tangled", Gilmore's team worked on hair simulation, among other duties. He served as production supervisor and voice actor for two roles in "Wreck-It Ralph". He became regular voice actor on "Supermansion".
Animation Work
Edit
Ad blocker interference detected!
Wikia is a free-to-use site that makes money from advertising. We have a modified experience for viewers using ad blockers

Wikia is not accessible if you've made further modifications. Remove the custom ad blocker rule(s) and the page will load as expected.