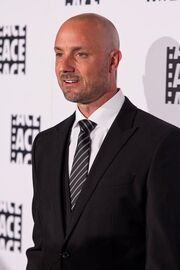 Tim Mertens was born in Burbank, California, not far from the Disney Studios. After attending Weber State University, Mertens moved back to Los Angeles and started his career with Disney TV Animation in 1990 before moving over to the Disney Feature Animation division in 1994. Most recently Mertens served as the Supervising Editor on Disney Animation's upcoming feature Tangled where he worked with the Directors to help shape the project from sketches and storyboards into the full length feature. Since starting with the company, Mertens has contributed on films such as Pocahontas, Tarzan, Brother Bear and Bolt. His first project with the company was as an Assistant Editor on Pocahontas. In addition, in 1994, Mertens received an Emmy Award for Sound Editing on Nickelodeon's "Rocko's Modern Life."
Ad blocker interference detected!
Wikia is a free-to-use site that makes money from advertising. We have a modified experience for viewers using ad blockers

Wikia is not accessible if you've made further modifications. Remove the custom ad blocker rule(s) and the page will load as expected.