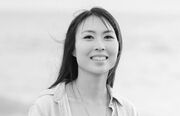 Sunmee Dong is a southern California native, having grown up in the San Fernando Valley. She received a bachelor's degree in Linguistics at UC Berkeley and will be finishing up the Character Animation program at CalArts. She has a love for making things and anything ocean or water-related. She directed and produced "Shell Out". She is currently working as a story artist at Walt Disney Animation Studios.
Ad blocker interference detected!
Wikia is a free-to-use site that makes money from advertising. We have a modified experience for viewers using ad blockers

Wikia is not accessible if you've made further modifications. Remove the custom ad blocker rule(s) and the page will load as expected.