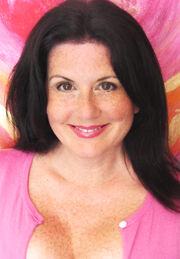 Sandy Fox (born Sandra Marie Fox on July 13, 1963) is an American voice actress and singer. Some of her characters include Mela in Puppy in my Pocket, Harmony in Hi Hi Puffy AmiYumi, and Mipsy in As Told by Ginger. In video games, she has played Flonne in the Disgaea series, Cylindria in Pac-Man and the Ghostly Adventures and numerous characters across the .hack franchise including Mistral, Mireille and Asta.
She began her professional career working in the entertainment department of the Walt Disney World Resort. She performed in live shows and events including a duet with Tommy Tune in Disney's July 4th Spectacular television special.
She was a guest star on Muppets Tonight episode 205 as the spokeswoman for Ernst Stavros Grouper's corporate raiderettes. She also played the role of Clover in an episode of Lizzie McGuire and supplied additional voices for Muppet Treasure Island and Wreck-It Ralph.
In the world of dubbing, she has played Ritz in Bleach, Momiji in Naruto, Kururu in Bottle Fairy, Neju Na Melmas and Nabiko in Tenchi Muyo! GXP, Kiyoko in the AniMaze dub of Akira, Rin in Fist of the North Star, Courtney in Pokémon Generations and Chibiusa/Sailor Chibi Moon and Black Lady in the in the 2014 English redub of Sailor Moon.
Sandy Fox is also married to fellow voice actor Lex Lang, and appeared as a contestant on the game show Whammy: The All-New Press Your Luck in 2003 (making it to the Tournament of Champions, though she ultimately lost).