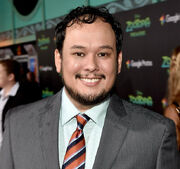 Raymond S. Persi (born February 17, 1975) is a director and character layout artist for episodes of The Simpsons. He was also a sequence director for The Simpsons Movie.
Outside of The Simpsons, Persi was also co-director of the Squirrel Nut Zippers - "Ghost of Stephen Foster" music video.
In 2010, Persi left FOX Studios to work on Wreck-It Ralph. In that film, he provided the voices of Gene and the zombie, who is based on Cyril from The House of the Dead. He was also a storyman and voiced the Horn on the animated short, Get a Horse!
Persi was also tasked to storyboard a long-lost alternate ending to The Jungle Book that was adapted from an old script treatment, which appears as a bonus feature on the film's Blu-ray release.
Ad blocker interference detected!
Wikia is a free-to-use site that makes money from advertising. We have a modified experience for viewers using ad blockers

Wikia is not accessible if you've made further modifications. Remove the custom ad blocker rule(s) and the page will load as expected.