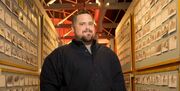 Paul Briggs is an American story artist and story department supervisor at Walt Disney Animation Studios. He is known for his work on Big Hero 6, Frozen, Winnie the Pooh and Tangled. He also provided the voice of Two Fingers in The Princess and the Frog, Marshmallow in Frozen and Yama in Big Hero 6.
Ad blocker interference detected!
Wikia is a free-to-use site that makes money from advertising. We have a modified experience for viewers using ad blockers

Wikia is not accessible if you've made further modifications. Remove the custom ad blocker rule(s) and the page will load as expected.