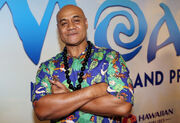 Oscar Vai To'elau Kightley, MNZM, a Samoan-born New Zealand actor, television presenter and writer.
Biography
Edit
He acted in and co-wrote the successful 2006 film Sione's Wedding. He is a member of the comedy group Naked Samoans Talk About Their Knives (also known as simply "Naked Samoans"), who together wrote the animated series bro'Town. He is also known for his involvement with Sportzah.
Kightley came to New Zealand after the death of his father when he was 4 years old. He was the youngest of eight children. He was adopted by his aunt and uncle, who live in West Auckland. He attended Rutherford College. This is where he learnt about the different cultures and his experiences during this time form the basis of his writing.
He was a breakfast announcer on Niu FM until January 2007. He has also been on New Zealand Radio National, guest hosting Kim Hill's Saturday Morning show during the New Zealand Summer of 2007-2008. In 2006 he received a Laureate Award from the Arts Foundation of New Zealand. He wrote the play Niu Sila with Dave Armstorng. Kightley is currently working on a feature film.
In 2013 Kightley played the title character in the police drama Harry, which he also co-wrote. He also directed Madeleine Sami's TV3 comedy Super City.
Filmography
Edit