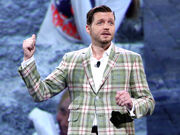 Nathan Greno is an American film director, story artist and writer at Walt Disney Animation Studios. He is best known as the co-director of the 2010 animated film Tangled.
Inspired by Disney films since the first grade, Greno started as a young boy writing and drawing comic books and strips. In 1996, during his junior year at Columbus College of Art and Design, he was hired by Walt Disney Feature Animation. He started there as an animation cleaner on Mulan. Being creatively unfulfilled, he switched to story development. He then contributed as a story artist on Brother Bear, wrote a screenplay and worked as a story artist on Meet the Robinsons, and supervised the story on Bolt. With the short film Super Rhino (2009), he made his directorial debut. In 2006, he took over a long-in-development project Tangled, and chose Byron Howard, with whom he had collaborated on Bolt and Super Rhino, as a directing partner. The film was released in 2010 to a great critical and financial reception, and was followed in 2012 by Greno and Howard-directed short film Tangled Ever After.
For 2018, Greno is directing an animated film, titled Gigantic, which will be loosely based on the fairy tale of "Jack and the Beanstalk."
Filmography
Edit
Ad blocker interference detected!
Wikia is a free-to-use site that makes money from advertising. We have a modified experience for viewers using ad blockers

Wikia is not accessible if you've made further modifications. Remove the custom ad blocker rule(s) and the page will load as expected.