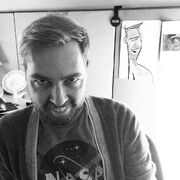 Michael Woodside started at Disney animating on Wreck-It Ralph. Ever since he has animated on Frozen and Big Hero 6. Students love Mike's way of teaching, which is very focused yet fun and loose. He has a great way of getting to the core of the issue and help students come to grips with animating tough performances. He is also a Disney connoisseur and even worked at Disney World!
Ad blocker interference detected!
Wikia is a free-to-use site that makes money from advertising. We have a modified experience for viewers using ad blockers

Wikia is not accessible if you've made further modifications. Remove the custom ad blocker rule(s) and the page will load as expected.