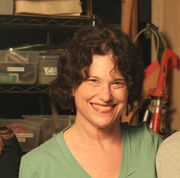 Mary Jo Lang has been a Foley mixer for 22 years, the last 20 of them at Warner Bros. Studio. Her credits include "Inception", "Puss in Boots 3D", "Dark Knight", "The Social Network" and has just finished work on "Girl With the Dragon Tattoo". She has worked on feature films primarily (her first mixing job was on "Hook" in 1990), although she has also worked on television and many video games. She has won several MPSE (Motion Picture Sound Editors) awards and, in 2009, was awarded the Distinguished Alumna award from her Alma Mater, University of California at Irvine. She is a member of the Academy of Motion Picture Arts and Science and has served on the Executive Committee of the Sound Branch for the past 12 years. Several of the films she has worked on have been nominated and won Academy awards for sound -- "The Matrix", "Ghost and the Darkness", "Braveheart". She has been working at Warner Bros. with Foley artists Alyson Moore and John Roesch, creating a team that is arguably known as the best in the business. She presently gives guest lectures at Riverside City College and is also a regular judge in the Film Festivals held there twice a year.
Ad blocker interference detected!
Wikia is a free-to-use site that makes money from advertising. We have a modified experience for viewers using ad blockers

Wikia is not accessible if you've made further modifications. Remove the custom ad blocker rule(s) and the page will load as expected.