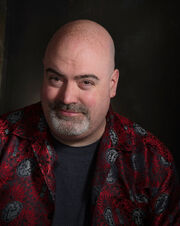 Kyle Henry Hebert (last name pronounced "ay-BEAR"; born June 14, 1969 in Lake Charles, Louisiana) is an American voice actor.
Biography
Edit
He voiced adult Gohan, Ox-King, Appule, Blueberry, General White, Pikkon, Captain Chicken, West Kai, and the narrator in the FUNimation dub of Dragon Ball Z, as well as Kamina in another popular anime, Gurren Lagann.
He also voiced Ryu in Capcom's Street Fighter IV series, and subsequent games Ultimate Marvel Vs. Capcom 3, Street Fighter X Tekken and Street Fighter V.
Hebert guest starred on the TeamFourStar's fan-made Dragon Ball Z Abridged 2011 Christmas special as Santa Claus and on The World's Strongest Abridged as the narrator.
Ad blocker interference detected!
Wikia is a free-to-use site that makes money from advertising. We have a modified experience for viewers using ad blockers

Wikia is not accessible if you've made further modifications. Remove the custom ad blocker rule(s) and the page will load as expected.