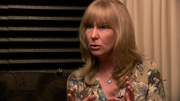 Katherine Ellen "Kath" Soucie (born February 20, 1967 in Cleveland, Ohio) is an American voice actress. One of the most popular female voice over artists in the United States, Soucie has provided the vocals for such cartoon characters as Janine Melnitz on The Real Ghostbusters, Fifi La Fume and Sneezer on Tiny Toon Adventures, Phil and Lil on Rugrats, Kitty Pryde on Pryde of the X-Men, Princess Sally Acorn and Nicole on Sonic the Hedgehog, Linka on Captain Planet and the Planeteers, Cubert on Futurama, Kanga on Winnie the Pooh and many, many more.
Disney Roles
Edit
Ad blocker interference detected!
Wikia is a free-to-use site that makes money from advertising. We have a modified experience for viewers using ad blockers

Wikia is not accessible if you've made further modifications. Remove the custom ad blocker rule(s) and the page will load as expected.