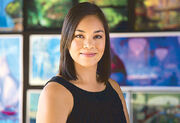 Josie Trinidad is a story artist at Walt Disney Animation Studios.
She's Co-Head of Story at Disney Animation Studios for "Zootopia." She oversees the story team, which is responsible for translating the script to its first visual form. Her Disney credits include films like "The Princess and the Frog," "Tangled," "Wreck-It Ralph" and animated shorts like "How to Hook Up Your Home Theater" and "The Ballad of Nessie." Josie joined Disney in 2004 as a story apprentice. Once she completed training, she is hired as a story artist. Before joining the Disney team, she worked as an illustrator for toy company MGA Entertainment, as well as Klasky Csupo on animated commercials.
Ad blocker interference detected!
Wikia is a free-to-use site that makes money from advertising. We have a modified experience for viewers using ad blockers

Wikia is not accessible if you've made further modifications. Remove the custom ad blocker rule(s) and the page will load as expected.