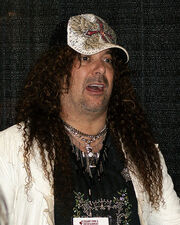 Jess Harnell (born December 23, 1963) is an American voice actor, singer, and musician who is best known for his voice roles as Wakko Warner on the Warner Brothers animated series Animaniacs, Ironhide in the Transformers film franchise and Crash Bandicoot in the Crash Bandicoot video game franchise. He is also the current announcer for the ABC reality television program America's Funniest Home Videos since 1998. He is also known for being the lead singer and musician of his rock band, Rock Sugar.
He was one of the additional voices in Lilo & Stitch. He also performed the voice of a guard in The Emperor's New Groove and Don in Wreck-It Ralph.
Ad blocker interference detected!
Wikia is a free-to-use site that makes money from advertising. We have a modified experience for viewers using ad blockers

Wikia is not accessible if you've made further modifications. Remove the custom ad blocker rule(s) and the page will load as expected.