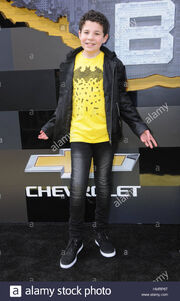 Jadon Sand (born May 24, 2003) is an American child actor best known for his role as Cubby in the television series Jake and the Never Land Pirates and Jake's Buccaneer Blast.
Born in California in 2003, Jadon Sand was in front of a camera before he was in elementary school. He began acting as early as 2008, appearing in a short film called Decent People. His first network television appearance was in a 2010 episode of "How I Met Your Mother" (CBS, 2005-2014), followed by a small guest spot on "Private Practice" (ABC, 2007-2013) that same year. After a few more guest roles, Sand landed the role of Danny on a three-episode arc on "Parenthood" (NBC, 2010-2013) in 2011. He had another recurring role in 2013, when he played the young version of Jimmy (played by T.J. Miller) on "The Goodwin Games" (Fox, 2013). The same year he landed three roles on three episodes on the children's horror-fantasy series "Deadtime Stories" (Nickelodeon, 2012-13). The young Sand was also sought after for voiceover work. He was one of the additional voices on "Frozen" (2013), the most popular animated film of all time, and took over the role of Cubby on "Jake and the Neverland Pirates" (Disney Jr, 2011-) in 2014, after the show's third season. He voiced the same role in the spin-off "Jake's Buccaneer Blast" (Disney Jr, 2014-). Also in 2014, he premiered on "The Affair" (Showtime, 2014-). Sand played the youngest son of philandering husband Noah Solloway on the critically acclaimed show. He attended the Radio Disney Music Awards in 2015. He has brothers named Cole and Carter Sand. He landed a role of Young Hank Bukowski in the James Franco-directed film, Bukowski.
Ad blocker interference detected!
Wikia is a free-to-use site that makes money from advertising. We have a modified experience for viewers using ad blockers

Wikia is not accessible if you've made further modifications. Remove the custom ad blocker rule(s) and the page will load as expected.