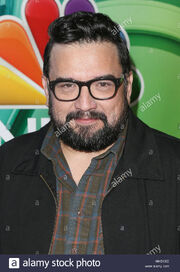 Horacio Sanz (born June 4, 1969), better known by his stage name Horatio Sanz, is a Chilean-born American actor and comedian who is best known for being a cast member on the NBC late-night sketch comedy and variety show Saturday Night Live from 1998 to 2006.
His Disney roles included Duncan in Wreck-It Ralph, Jr. Commissioner "Dutch" Vallejo in Fillmore!, and additional voices in Gravity Falls.
Sanz was born in Santiago, Chile and grew up in Chicago, Illinois with his two older brothers and his parents. He started acting at a young age at various theaters in Chicago.
His first professional work was in Miracle on 34th Street in 1994, but his big break was in 1998, when he was cast as a regular on Saturday Night Live. He remained with the cast for eight years, though he has reappeared on the show a few times since then as a guest.