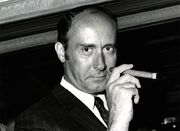 Enrico Nicola "Henri" Mancini (April 16, 1924 - June 14, 1994) was an American composer, conductor, and music arranger who is best remembered for his film and television scores who wrote the music for The Great Mouse Detective.
He is most famous for writing The Pink Panther Theme, which can be heard in Ice Princess.
Ad blocker interference detected!
Wikia is a free-to-use site that makes money from advertising. We have a modified experience for viewers using ad blockers

Wikia is not accessible if you've made further modifications. Remove the custom ad blocker rule(s) and the page will load as expected.