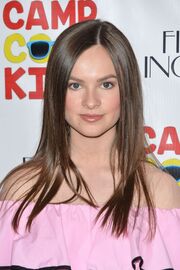 Emily Hahn (born July 28, 2000) is an American child actress. She voiced Bonnie Anderson in Toy Story 3 (2010), and reprised her role in subsequent Toy Story short films and television specials. She also voiced Oona in Bubble Guppies.
Hahn has also guest-starred on House M.D. and Falling Skies.
Hahn will graduate in 2018 from high school, subsequently going to college to study filmmaking.
Filmography
Edit
2014: Toy Story That Time Forgot ... Bonnie
2013: Toy Story of Terror! ... Bonnie
2012: Wreck-It Ralph ... Additional voices
2012: ParaNorman ... Sweet Girl
2012: Partysaurus Rex ... Bonnie
2011: Small Fry ... Bonnie
2011: Lip Service ... Paloma
2011: Falling Skies ... Young Survivor Kid
2011: Hawaiian Vacation ... Bonnie
2011: House ... Rachel Cuddy
2010: Brothers & Sisters ... Margaret Hartley
2010: Hawthorne ... Ginger Dayton
2010: Toy Story 3 ... Bonnie
2009: Na pude ... Andrejka
Ad blocker interference detected!
Wikia is a free-to-use site that makes money from advertising. We have a modified experience for viewers using ad blockers

Wikia is not accessible if you've made further modifications. Remove the custom ad blocker rule(s) and the page will load as expected.