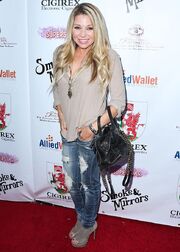 Elizabeth Ann Guttman, better known by her stage names of Elizabeth Daily and E.G. Daily (born September 11, 1961 in Los Angeles, California) is an American actress, voice-over actress, singer/songwriter and musician who is the voice of Tommy Pickles from Rugrats and it's spin-off All Grown Up!. Aside from Voice-acting she has been quite success-full as a musical-performer.
E.G. started acting in 1978 as a dancer in the movie, Disco Fever. She has also guest-starred in television shows such as Laverne & Shirley, Chips and the television version of Fame'.' She is also known for playing Dottie in the movie, "Pee Wee's Playhouse" in 1985 as Pee Wee's girlfriend. She starred in the movies "Streets of Fire," "Bad Dreams," "Loverboy," "Valley Girl" and various television movies.
E.G. is also known for portraying the voices in animated series such as Buttercup on The Powerpuff Girls, Mambo on Duckman, Rudy Tabootie on ChalkZone and Zoe on Baby Blues. She has also done voice-over work on Recess, Eek! The Cat, The New Batman Adventures, Histeria and The New Woody Woodpecker Show.
She also does the singing voice of Jake Harper in the opening credits of Two in a Half Men. E.G. has done voice-over work in movies Lorenzo's Oil and A Goofy Movie. She's also famed for voicing Babe in Babe: Pig in the City, taking over the role from Chuckie's voice actress, Christine Cavanaugh. She also did the singing voice of Bamm-Bamm Rubble (as spoken by Cavanaugh) in Cave Kids and Beary Barrington (as spoken by Haley Joel Osment) in The Country Bears.
Music Career
Edit
E.G. signed to A&M Records in 1985 and a year later, she released the single, "Say It Say It" which managed to peak at #70 on the Billboard Hot 100 and topped the dance charts.
Her music has featured on movie soundtracks such as "Scarface," "The Breakfast Club" and "Summer School." She also provided vocals on Human League's Phillip Oakley's solo album, "Philip Oakey & Giorgio Moroder."
E.G. has released three albums: "Wild Child" (1985), "Lace Around The Wound" (1989) and "Tearing Down the Walls" (1999). In 2008, she released the single, "Beautiful" which is available on iTunes. E.G. has starred in Rob Stewart's "Young Turks" music video.
Personal Life
Edit
E.G. was married to Rick Solomon from July 1995 to March 2000. She has two daughters: Hunter Daily Solomon (born on March 13, 1996) and Tyson (born on October 14, 1998).