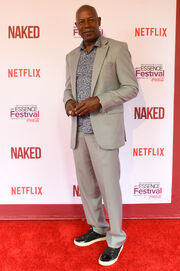 Dennis Dexter Haysbert (born June 2, 1954 in San Mateo, California) is an American movie and television actor. He is known for appearing in the Allstate commercials. He also starred in many movies such as Major League. He also starred in the television show 24.
Selected filmography
Edit
Fist Fight (2017)
Jarhead 3: The Siege (2016)
Ted 2 (2015)
Sin city: A Dame to Kill For (2014)
Welcome to the Jungle (2013)
Wreck-It Ralph (2012)
Kung-Fu Panda 2 (2011)
The Details (2011)
Breach (2007)
Jarhead (2005)
Love & Basketball (2000)
Random Hearts (1999)
Major League: Back to the Minors (1998)
Absolute Power (1997)
Waiting to Exhale (1995)
Heat (1995)
Major League II (1994)
Suture (1993)
Mr. Baseball (1992)
Navy SEALs (1990)
Major League (1989)
Television appearances
Incorporated (2016-2017)
Backstrom (2015)
Trophy Wife (2013-2014)
The Unit (2006–2009)
Now and Again (1999-2000)
Just the Ten of Us (1988-1989)
Off the Rack (1984-1985)
Buck Rogers in the 25th Century (1980-1981)
Video games appearances
24 The Game - voice and likeness (2006)
Tom Clancy's Splinter Cell: Pandora Tomorrow - voice only (2004)
Ad blocker interference detected!
Wikia is a free-to-use site that makes money from advertising. We have a modified experience for viewers using ad blockers

Wikia is not accessible if you've made further modifications. Remove the custom ad blocker rule(s) and the page will load as expected.