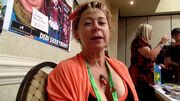 Deborah Sue Greenberg (born September 27, 1960), better known as Debi Derryberry, is an American voice actress, singer, composer and kids' entertainer who won an American Anime Award. She provided the voice for one of the Aliens in Toy Story (in Pizza Planet) and Amy in Toy Story 2. Another voice from Toy Story was the Pizza Planet Intercom. She also performed in A Bug's Life.
Some of her non-Pixar work includes Jimmy Neutron and Planet Sheen for Nickelodeon, Clay on Playhouse Disney, Gnochi from the Curious George series on PBS and characters in Ice Age 2. Her acting work includes shows such as iCarly and Get a Life.
Ad blocker interference detected!
Wikia is a free-to-use site that makes money from advertising. We have a modified experience for viewers using ad blockers

Wikia is not accessible if you've made further modifications. Remove the custom ad blocker rule(s) and the page will load as expected.