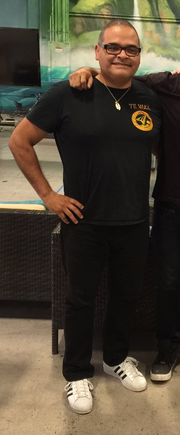 David Pimental has been in the animation industry for 14 years. Starting his career at the Walt Disney Animation Studios in hand drawn animation on such films as Pocahontas, Hercules, Fantasia 2000, The Hunchback of Notre Dame, Tarzan, Atlantis: The Lost Empire, Treasure Planet and Home on the Range. In 2002 David began working for Dreamworks Animation Studios storyboarding on such films as Sharktale, Shrek 2 and Kung Fu Panda. David became a Head of Story on Jerry Sienfelds Bee movie and How To Train your dragon. David is working in Walt Disney's Development Department and helping storyboard various projects currently in production.
Ad blocker interference detected!
Wikia is a free-to-use site that makes money from advertising. We have a modified experience for viewers using ad blockers

Wikia is not accessible if you've made further modifications. Remove the custom ad blocker rule(s) and the page will load as expected.