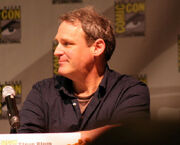 David "Dave" Boat (born May 9, 1971) an American voice actor. He has voiced characters in Disney films, animated features and video games. In Disney's animated feature, Frozen, he voiced additional characters.
Although Boat has used his voice in several popular films and T.V. series, such as Wreck-It Ralph and Ultimate Spider-Man, he was not part of the main cast in many of the projects he has worked on. Instead, he voices additional characters, as shown in the tables below.
Ad blocker interference detected!
Wikia is a free-to-use site that makes money from advertising. We have a modified experience for viewers using ad blockers

Wikia is not accessible if you've made further modifications. Remove the custom ad blocker rule(s) and the page will load as expected.