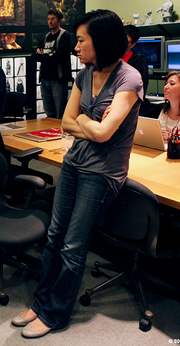 Claudia Chung Sanii joined Walt Disney Animation Studios in 2012 as a character technical director, specializing in character simulation. Her Disney credits include recent Oscar®-winning features Big Hero 6 and Frozen. Prior to her role at Disney, Chung Sanii spent 10 years at Pixar Animation Studios, where she contributed to Oscar winners Brave (as simulation supervisor), Up (as character cloth lead), Ratatouille, The Incredibles and Finding Nemo (the latter three as simulation and/or rendering TD).
Ad blocker interference detected!
Wikia is a free-to-use site that makes money from advertising. We have a modified experience for viewers using ad blockers

Wikia is not accessible if you've made further modifications. Remove the custom ad blocker rule(s) and the page will load as expected.