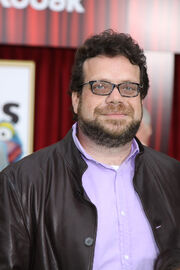 Christophe Beck, also known as Chris Beck, is a Canadian television and film score composer. Beck composed the score for Frozen, along with Robert Lopez and his wife.
Early Life
Edit
Beck was born in Montreal in 1968/1969 as Jean-Christophe Beck. He attended Crescent School in Toronto, Ontario, Canada and studied music at Yale University, serving as the music director of its a capella groups the "Spizzwinks(?)" and the "Whiffenpoofs," the latter holding the distinction as the oldest collegiate a capella group in the United States.
Beck studied film scoring at the University of Southern California Thorton School of Music, taught by Jerry Goldsmith, among others. He then studied and worked with Mike Post for some time, writing some music for some of Post's series, though he was uncredited. In 1998, Beck won an Emmy Award for his work on the television series, Buffy the Vampire Slayer, where he served as the main composer during seasons 2-4
Beck has written music for over 100 films and television shows. His TV work includes Buffy the Vampire Slayer (1997-2001) and Angel (1999-2000). His film scores include Garfield (2004) and its 2006 sequel, A Cinderella Story (2004), The Pink Panther (2006) and its 2009 sequel, The Hangover movies (2009-2013), The Muppets (2011), and its 2014 sequel Muppets Most Wanted, Marvel's Ant-Man (2015), and The Peanuts Movie (2015).
Compositions for Disney Feature Films
Edit