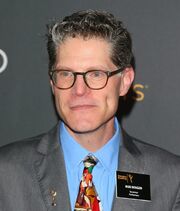 Robert "Bob" Bergen (born March 8, 1964 in St. Louis, Missouri) is an American voice actor who is best known for voicing the Looney Tunes character Porky Pig in Tiny Toon Adventures, Space Jam, Looney Tunes: Back in Action, and Duck Dodgers as well as his work in various anime.
He is the voice of Cheese and extra characters in the Tinker Bell films, extra characters in Ponyo, Spirited Away, HEX in Disney Universe, Bucky the Squirrel in the Emperor's New Groove franchise, Lanky Schmidt in Monsters, Inc., and additional voices in Lilo & Stitch, Tangled, Wreck-It Ralph and the Mickey Mouse short Get A Horse!. He voiced Bucky Barnes in Avengers Assemble. He also voiced Comet in The Santa Clause 2.
Ad blocker interference detected!
Wikia is a free-to-use site that makes money from advertising. We have a modified experience for viewers using ad blockers

Wikia is not accessible if you've made further modifications. Remove the custom ad blocker rule(s) and the page will load as expected.