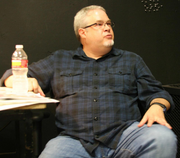 Barry Johnson has worked on feature animated films for Aardman, Disney and DreamWorks as a story and development artist. Barry shares story sketches on his blog from unrealized projects that were in development, and others that represent the beginnings of memorable moments in films that made it to theaters, such as Timon doing the hula in The Lion King.
Ad blocker interference detected!
Wikia is a free-to-use site that makes money from advertising. We have a modified experience for viewers using ad blockers

Wikia is not accessible if you've made further modifications. Remove the custom ad blocker rule(s) and the page will load as expected.