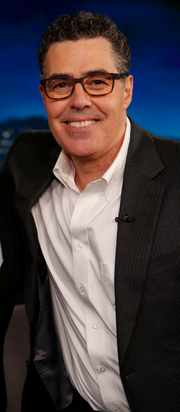 Adam Carolla (born May 27, 1964) is an American comedian, radio personality, television host, actor, podcaster and director who is best known for co-hosting the syndicated radio call-in program Loveline from 1995 to 2005, and currently hosts the free podcast talk show The Adam Carolla Show since 2009.
He voiced Commander Nebula in Buzz Lightyear of Star Command, Burt the Cab in Wizards of Waverly Place, One-Eyed Jackson in Kick Buttowski: Suburban Daredevil, and played Wynnchel in the 2012 animated film, Wreck-It Ralph.
Ad blocker interference detected!
Wikia is a free-to-use site that makes money from advertising. We have a modified experience for viewers using ad blockers

Wikia is not accessible if you've made further modifications. Remove the custom ad blocker rule(s) and the page will load as expected.